Hajj is one of the five pillars of Islam and is mandatory, once in a lifetime, for all adult Muslims having the requisite physical and financial capacity (Sahib-e-Istetaat). The Ministry of Religious Affairs & Interfaith Harmony has been mandated for arrangements of Hajj under Rules of Business 1973. Although technological advancement has made Hajj easier in many ways, yet there are hardships and challenges faced by Hujjaj owing to hot weather and
ever-increasing number of pilgrims visiting Makkah Mukkaramah and Madina Munawwara, cities with finite resources including accommodation, transport and limited space at Mashair (Mina-Arafaat-Muzdalifa). The Government of Pakistan, being a facilitator, endeavors to make the Hajj as comfortable as possible within the available financial resources by making elaborate arrangements, through a transparent process, so that Pakistani pilgrims could perform their Hajj rituals as enshrined in the Quran and Sunnah
Govt Hajj Scheme 2020
Pakistani citizens who plan to undertake pilgrimage can now apply for Govt. Hajj 2020
Applications will be selected on the basis of balloting that will be conducted by MORA (Ministry of Religious Affairs).
Permitted Group Size: 1-14 members
Eligibility Criteria for Govt Hajj Scheme 2020
If a person has performed hajj before 2015 (Govt. Scheme OR Pvt. Scheme), then he/she is eligible to apply for Govt Hajj 2020. i.e. 5 years restriction to apply on Govt. Hajj.
Males can only go as mehram of a lady who has not performed Hajj before OR can apply in Pvt. Hajj scheme.
Females cannot apply for Govt. hajj without Sharee Mehram, only Fiqh Jafria females above the age of 45 years are exempted.
Mehram's age:
70 years and above applicants (10,000 applications):

Must be accompanied by a Male helper.

70 years and above for Women:

Must be accompanied by a Female helper along with male Mehram
Group shall comprise of 2 persons (Aged + Helper) & for Lady aged person Group size 3 (Aged + Lady Helper + Mehram)

Applicants who have been unsuccessful for last 3 years (10,000 applications):

All applicants must have been unsuccessful for 3 years i.e 2017, 2018 & 2019

Applicants must form a separate group

Overseas Pakistanis applicants (1,000 applications):

Applicants must have valid NICOP & Ordinary Machine Readable Passport
Documents Require for Govt Hajj 2020
Three Photographs:

4×3 Centimeter with light blue background should be obtained without glasses. (Polaroid and scanned photos are not allowed)
In case of women, photo wearing Scarf is mandatory i.e. head, neck and ears covered

International Machine Readable (IMRP) Passport Copy:

Validity period of passport must not be less than 01 February 2021

Valid CNIC Copy
Medical Certificate (only for successful applicants):
Govt Hajj Application Form Submission Dates
The government of Pakistan announced that the designated branches of the banks will start receiving Hajj applications from 24th February 2020 to 6th March 2020.
Submit Online Hajj 2020 Applications
This year Banks introduces the facility of Online Submission of Hajj Application. Here is the list of Banks who are accepting the online forms from their official websites.
| Name of Bank | Website | Online Submission |
| --- | --- | --- |
| Allied Bank Limited | https://www.abl.com/govt-hajj-scheme-2020/ | NO |
| Askari Bank Limited | https://askaribank.com/ | NO |
| Bank Alfalah Limited | https://www.bankalfalah.com/islamic-banking/government-of-pakistan-hajj-scheme-2020 | NO |
| Bank Al-Habib Limited | https://www.bankalhabib.com/posts/hajj-applications-2020 | NO |
| Faysal Bank Limited | https://www.faysalbank.com/en/islamic/hajj-2020/apply-hajj-2020/ | YES |
| Habib Bank Limited | https://www.hbl.com/ | NO |
| Habib Metropolitan Bank Limited | https://www.habibmetro.com/ | NO |
| MCB Bank Limited | https://www.mcb.com.pk/ | NO |
| Meezan Bank Limited | https://www.meezanbank.com/govt-hajj-2020/ | NO |
| National Bank of Pakistan | https://nbp.com.pk/index.aspx | NO |
| The Bank of Punjab | https://www.bop.com.pk/ | NO |
| United Bank Limited(UBL) | https://www.ubldirect.com/corporate/HajjApplyNow.aspx | YES |
| Zarai Taraqiati Bank Limited | https://www.ztbl.com.pk/product-services/hajj-applications-2/ | NO |
List of Banks Accepting Hajj Application Forms 2020
Allied Bank Limited
Askari Bank Limited
Bank Alfalah Limited
Bank Al-Habib Limited
Faysal Bank Limited
Habib Bank Limited
Habib Metropolitan Bank Limited
MCB Bank Limited
Meezan Bank Limited
National Bank of Pakistan
The Bank of Punjab
United Bank Limited(UBL)
Zarai Taraqiati Bank Limited
Govt Hajj 2020 Cost Price
Hajj application forms can be collected free of cost from any designated Bank's Branch. The dues for Govt. Hajj Scheme 2020 as announced by the Ministry of Religious Affairs (MORA) are as follows: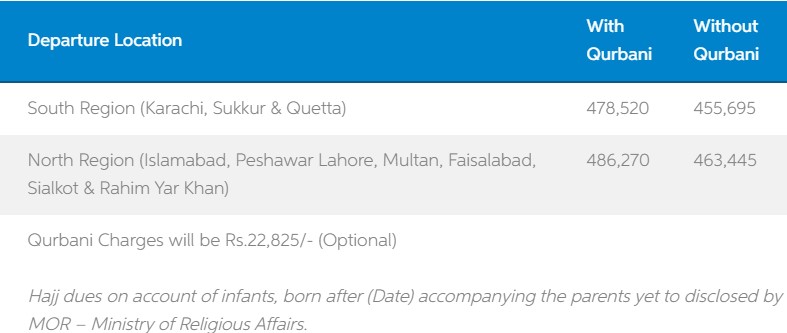 Govt Hajj 2020 Successful Candidates List
Since the applications are in process right now , Please visit later to check the list
Click here to Check the Govt Hajj 2020 Draw List
FAQs
HAJJ QUOTA FOR PAKISTAN:
Hajj quota for Pakistan is179, 210 which was fixed in 2011 by the Ministry of Hajj & Umrah, Kingdom of Saudi Arabia (KSA) with the ratio of one thousand pilgrims per one million Muslim inhabitants
HOW MUCH TIME DO WE HAVE TO ENROLL THROUGH GOVERNMENT HAJJ SCHEME – 2020? WHAT IS THE CRITERION FOR SUCCESS FOR GOVERNMENT HAJJ SCHEME?
The Hajj applications will be accepted between 24th February to 4th March i.e. 10 days. If a group leader is successful, all of its members are successful. Groups are encouraged to optimize the chance of qualifying for Hajj 2020
WHAT IS A GROUP?
Anybody can apply singly; however, two or more people (up to 14) can form a Group. Bank branch will manage this where the applications are being submitted.
HOW CAN PHYSICALLY CHALLENGED / HANDICAPPED PEOPLE APPLY FOR HAJJ SERVICES?
Physically challenged / handicapped people must nominate an attendant to travel with them. The details of the nominated person are to be filled in the Hajj form.
WHO IS NOT ELIGIBLE TO PERFORM HAJJ 2020?
The following are the categories that will not be eligible for Hajj 2020:
Women who are five months and above into their pregnancy, at the time of departure for Hajj
People suffering from any sort of communicable/ contagious diseases/ mental illness, people suffering from TB, acute asthma, severe heart conditions, uncontrollable diabetes and blood pressure.
All those who have performed Hajj under Govt. Hajj Scheme in the last 5 years (2015 and onwards) except those applying as Mehram.In this regard, the repeater(s) including mehram will have to pay the additional taxes levied, if any, by the Saudi Authorities prior to their departure